---
Modern survival gear and tech have made it easier for preppers to camouflage themselves while hunting or bugging out. But you should also be prepared to improvise if you lose access to your camo gear.
Here are tips that will help you camouflage yourself when SHTF using things you might have in your bug-out gear or whatever you can find around you. (h/t to AskAPrepper.com)
What makes things noticeable?
Several factors make it easier to notice things. These factors also form the foundation of your ability to camouflage yourself.
Color
Color is one of the most obvious reasons why things are seen.
Greens, browns, tans and grays are the most common colors that you'll find in nature. During winter, white joins the prominent colors listed above.
To blend in even without camouflage-patterned clothing, wear items in earth tones, especially if you're wearing brightly colored clothes underneath.
Shape or silhouette
Nothing in nature is shaped like a human being. People often stand out while in the woods, especially if you're silhouetted against the sky.
Using camouflage helps break up the outline of a human being so you don't look like a human. If you're hunting or trying to escape pursuers, pay attention to where you're walking. Don't let silhouette show up against the sky.
Texture
Nature has various textures and not a lot of natural things are smooth like your clothing. Even your bare skin looks out of place in the wild.
Shine
Humans own lots of shiny objects and some items give off a shine that you don't always notice.
Items like eyeglasses, watch bands, watch faces, rings and smartphones may reveal your location if you're trying to hide, so cover their surface or get rid of them. Your skin also gets shiny and oily, which stands out against nature's colors.
Shadow
Even if you hide behind a tree or bush, the sun can still cast your shadow on the ground and make it visible to animals or humans that can't see you directly. On the other hand, you can hide in shadows since they are darker than the surrounding area.
Sound
Making noise is one of the most common ways that you can reveal your location since sounds immediately capture anyone's attention.
When someone hears a noise, their eyes follow. If you're trying to stay camouflaged, move carefully and be as quiet as possible.
Movement
Camouflage works best if you stay in place. Animals and humans can easily spot movement so don't move if someone is looking in your direction.
If you have to move, make all movements slow and deliberate.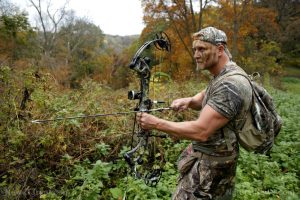 Wear the right colors for camouflage
If you think you'll eventually have to bug out when SHTF or run from pursuers, make sure your bug-out bag (BOB) only has clothing in muted colors or earth tones.
Try to blend in
Camouflage patterns work because they fool the eyes and disrupt the outline of your body. If you lose your camouflage gear, improvise using what you're wearing and what you can find in nature.
Tie natural materials to your hat, clothing, or gear to break up your silhouette. Don't overdo it, though. You just need to break up the outline of your body.
Cover exposed skin
Cover every inch of exposed skin like your face, ears and neck to stay hidden. A camouflage face paint kit is ideal, but you can use dirt and mud instead if you lose your gear.
To camouflage your hands, rub mud and dirt on your skin. Pile a bit of dirt or mud on the back of your hand and rub in.
Camouflage face paint is the best way to hide your face and stay undetected. These items are available in sets of black, brown and green and you can use them to blend into any environment.
With camouflage face paint you can contour different parts of your face so natural light doesn't reflect off it and reveal your position. It's best to use grease-based face paint since it's water-resistant.
Use colors that match the environment you're in:
If you're in the forest use black, brown and green.
When in the desert use brown, light green and tan.
In winter use gray, green and white.
When in an urban environment use black, brown and gray.
When camouflaging your face, use darker paint for parts that stick out. Any part that caves in requires lighter or medium colors. This helps give your face a flat appearance.
Flat objects are much harder to detect at a distance, especially at night. The more you cover the skin around your face, the better chance you'll have at staying hidden.
Face paint is the most effective option for camouflage, but you can also use dirt to reduce shine, blend into the background color and match nature's texture.
Wear hats
Wear a camouflage hat if you're out in the woods. To hide from pursuers or animals you're hunting, secure foliage from the surrounding area into the loops that run around the brim of your hat. (Related: Hiding in plain sight: Keep a low profile and make your bug-out location inconspicuous.)
Don't forget your gear
Here are some ideas you can try to camouflage your gear for hunting:
Sew burlap or cloth strips to your equipment for camouflage. Make sure the burlap or cloth doesn't interfere with how you operate your gear. If you don't have time, stick foliage into loops or attachment points to help your gear blend into the environment.
Spray paint your backpack a muted tan and attach some general purpose surplus military camo netting over and around it to hide its color, shape and outline.
You can also camouflage hand-carried gear like firearms by spray painting it with your own camo patterns. Pay special attention to metal and lenses that will shine and reflect light. Exposed metal can glint in the light and be seen from far away so hide it when you're using it or finish it with an anti-reflective coating.
Useful camo gear
If you don't want to spend too much money on camo gear, make do with two items: A sniper veil and a shemagh.
Sniper veil
A sniper veil is a cotton mesh that comes in either a solid color or a camouflage pattern. You simply drape the veil over your head, around your body, or over gear for easy camouflage.
Shemagh
A shemagh, also known as a keffiyeh or ghutrah (ghutra), is an article of clothing from the Middle East.
Shemaghs look like scarves and they are often used in arid regions to price the face from direct sun exposure, dust and sand. It's similar to a bandana, but a shemagh is much larger.
A shemagh is approximately 42? x 42? and you should have one in your BOB. When SHTF, you can use your shemagh to camouflage your head and face in a survival scenario.
Use camouflage to stay hidden while hunting for food when SHTF or hiding from pursuers in a survival scenario.
Visit Survival.news for more tips on camouflage and other important survival skills.
Sources include: